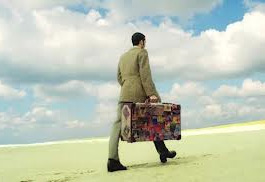 This morning the newspaper ran a curious story. The Tourism Ministry released data on foreign tourist arrivals for year 2012. The startling fact was that during the year only one person each from six countries visited India. These were Wallis Futuna Island, St Pierre & Maiqueldu, Guam, Gibraltar, Cayman Islands and Anguilla. I have to be honest here – barring a couple of these names, I didn't even know these countries existed (and I bet you your bottom dollar you didn't know either). The article went on to talk about the country that sent the highest number of tourists (United States, naturally) and how India and China will see maximum inbound tourism in the next decade or so.
I wonder if such release of data from the highly respected Ministry of Tourism makes any difference to anyone in India whether directly or indirectly dependent on tourism. It seems completely farcical to me that while on the one hand the Ministry keepssuch  detailed inbound data on even the most veiled countries, it has nothing concrete to say about the loss of several thousand lives in the recent Uttrakhand tragedy. I have seen umpteem news bytes and read half dozen articles on what the actual toll figure could be; how politicians are doing what they are naturally good at – politicizing the disaster; how the State Government was pre warned by Mets and others and how it was part man made disaster and part nature fury.
Nobody wants to stick his or her neck out and accept the responsibility with a rock solid resolution to rebuild the grievious State. None of the corporates who throw millions of dollars to sponsor 22 players dance in coloured pajamas on green grass have stepped forward with generous donations to aid in rehabilitation plans. Where's the Planning Commission now and why it is mum on the subject? Is it only our toothless NDMA's prerogative to speak about this tragedy and defend its turf.
The only silver lining news was that a bunch of young ragpickers donated Rs 20,000 out of their small pcokets to help the stranded victims. Scores of civil society citizens have also contributed to the cause but our Tourism Ministry is still busy releasing data on the one yaatri from a god forsaken piece of land who visited India in 2012. Jai ho!!!