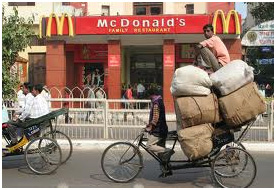 Few days ago while walking out of MacDonalds, I wanted to compliment the shift in charge for their usual quick service, the clean look and feel and their ever so reliably delectable burgers. On the drive back, I wondered who was the real owner of the outlet? Didn't have a clue and probably I'm one of the thousands who visit that outlet everyday but are unaware about the ownership of that store. Enter Franchising business. So we all know what franchising is – where one party allows the other to use it's trademark or trade name as well business systems and processes.
Take a look around – everywhere there are big boards of franchised business models. From education to personal care to dining to business services and much more – everywhere. Any google search will throw up startling figures on the franchising industry in India. Frachising is valued at USD 13 billion per year growing at about 30% with over 1800 franchisors and 11 million people employed directly or indirectly. Further, all future indicators are pointing a big boom in the coming years.
So why is franchising business attracting the attention of entreprenuers? With global exposure and lifestyle changes an average urban Indian family wants to eat, shop and consume products from the same brands as their counterparts say in US or Australia. Call it the Globalisation of Indians. But there's much more to it. Entrepreneurism breeds franchising. India is churning out more and more entrepreneurs who heavily rely on franchising model to ramp up the scale of operations. Coupled with this, the relatively low risk profile of franchising business encourages investors to give it a try. For international brands, franchising presents a low investment high return and quick results approach – everything that you'd want as a foreign company when entering in foreign markets.
My simple two point formula for international brands seeking international expansion particularly into India is. First, once you have selected India to be your destination country you must target prospective franchising partners. This can be efficiently done market market entry consultants. Consultants work by promoting a franchise within a particular market through and will often employ a strategy of directly contacting the best potential partners to determine interest. Generally, consultants will not ask the franchisor to visit the country until they have generated serious interest. A consultant will typically derive the bulk of his/her fees based on successful introductions made.Fees generally range between 10 and 20 percent of the initial franchise fees collected from the franchisee. Another option to enter the market is through focused trade missions which franchisors access to interested franchise at multiple levels.
Second, once a franchisee partner is finalised, the relationship between the franchisor and franchisee must be carefully structured. One consideration is whether the relationship will grant the franchisee franchise rights for an entire country, or at least a substantial region. The barriers and costs involved in entering India may make individual business unit franchising unfeasible for the franchisor. In such cases, franchise arrangements can be structured so that the partner franchisee would not only develop individual franchise units, but would also sell franchises much the same as the international franchisor. Franchisors typically are compensated in these arrangements through a combination of initial fees, ongoing fees, and unit-opening fees.
Currently there is no specific legislation on franchising in India. With recent talks of FDI reforms in single and multi brand retail it can expected that franchising will become a sub-industry under retail sector. The franchising business could see some consolidation and perhaps even exodus of the weaker brands. But on the whole, the industry will grow rapidly for the next deacde or so.
So, the next time the Pizza hut delivery is at your door, remember he's not there just because you crave for "cheese burst" but because they see big business in this patch of the world!!!