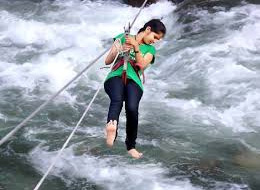 I recently took a few days off and traveled to an offbeat place about 6 hours north of Delhi with some friends. When we got there we were amazed to see what was in store for us. The "offbeat place", situated miles away from the nearest highway, had a platter of adventure activities on the taking. There were Quad Bikes; Paint Ball Adventure and Ziplines – definitely not your average Indian vacation items.
Naturally, we did them all and as it always happens – time flies when you're enjoying every second of it. On the journey back, I wondered how many such places I could recall in my lifetime of vacations. None was the answer and yet it was a no brainer – we probably wouldn't have had near as much as fun as we did had the place not offered the extra spice of adventure activities.
That brings me to the moot point – why hasn't adventure tourism taken off in India in a bigger way given that there millions of us who take at least one good break every year. Mindset, could be a partial answer, in that many Indians like to visit inter state family and relatives during the holiday season leaving out the scope for any adventure (pun intended!). But that still doesn't give the full picture. I suppose what's missing is the number of quality adventure sport outfits and locales. They aren't anywhere close to what they ought to be. Plus at a grass root level the curriculum of our schools teaches us a lot minus adventure activities.
Don't get me wrong – everyone has done paddle boating in lakes or elephant riding but would you call these things the "adventure" part of your vacation? And by the way, did you pay attention to the life jackets provided by the boat company? Were they service worthy or was there a medical id box at hand?
Also, it's only in recent years, the better schools have started to talk about adventure games for children as part of the courseware not just to build physical fitness but also foster a competitive spirit and team bonding.
For me, the direct opportunity lies in bringing forth adventure sports in India, not just for the "once a year" vacation guy but also for the everyday school girl who has an adventure bone in her body. Everything from equipment supply to training to enforcing world class safety guidelines is a chance to do business in this country.
And for those who think Quad bikes and Ziplines are kid stuff, well there's "extreme adventure" too!!!