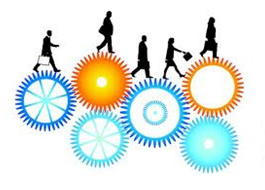 The good news is that India's demography is titled towards the youth meaning that India's labour pool will remain productive for at least the next few decades. The not-so-good news is that today virtually every industry is facing a serious shortage of skilled labour. This problem gets woefully exposed when world class companies set up shop in India and hire local staff with expectations of the same high standards of skill and talent as they would in their home country.
Fortunately, the Indian Government recognizes this demand and supply gap and has set an agenda to train (read upskill) 500 million people by 2022. This is more than ambitious and in my humble opinion way beyond the reach of the Government. It needs more than active participation from the Indian private sector. Further, I dare say that even with the private sector on board, collectively they may not be fully up to the task if these targets are to be take seriously.
Enter the opportunity for foreign skill development or vocation institutions to bridge the necessary gap. The skill development models of countries like Australia, Singapore and Germany have often been extolled. Some of the systems in these countries could be adopted in order to ensure scale, speed and quality delivery. While opening a campus of a foreign vocational institute would be depend on a host of factors (and not always the easiest route), a more addressable approach could be to have twining arrangements with Indian education institutions and or engage in corporate tie-ups. Few sectors that have glaring skill shortages include: construction, mining, trades, retail and tourism.
Already the presence of foreign vocational institutions in the form of twinning arrangements is being seen in India but these are too far and too few. If we have to scale Mt 500 million by 2022, there's room for virtually everyone who a skill development program to offer.